This is a lottery that makes the headlines on a regular basis because of its enormous jackpots. It's a game that has had jackpots of over $1 billion US. And now you can play it too. Curious about what game we're talking about? It's the Powerball US and it's available from the UK as well, or from any other country for that matter. Even better, the process is super simple for you to get started playing and figure out how to play Powerball online.
It is so easy to play Powerball online now
Pick your numbers, pay online and our agents will buy a ticket for you. If you want to choose the numbers that you like best then you can do that. If you want us to choose the numbers for you then you can do that too. This is our service. Even more importantly, you do not have to worry about being paid if you win. We will take care of your payout for you as well. It makes the whole process a whole lot easier.
Why is the Powerball jackpot that high so often?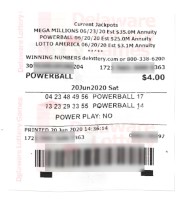 Well, first off because it can never be lower than $20 million. Whenever the jackpot has been won, the top prize restarts at $20 million. When that happens, the Powerball jackpot starts going up by $10 to $20 million per draw. There are two draws per week. So it only takes two weeks until the jackpot breaks the $100 million barrier (unless someone wins the top prize, of course). Once that has happened, it usually increases by 10-15% after every draw.
If you can win the jackpot during these first few weeks you're going to have a really large prize because you're going to win millions. Even winning that very first week means you're going to win a total of $20 million.
But what if you win the jackpot somewhere after that first drawing? Chances are if you win it will be later because this jackpot is rarely won when it's down that low.
But it happens on a regular basis that the jackpot is not won over a period of eight to nine weeks. Then it will have reached $500 million or more and literally, everyone over 18 in the USA starts playing this lottery. The ball really gets rolling at that point.
It only takes one draw to go from $500 million to $1 billion or more. This is where everyone is going to want to start looking closer and you're definitely part of that group as well.
Obviously, the higher jackpots get worldwide attention in the media. That includes the UK, and lotto fans from all over the world want to play Powerball online. This is the service that we provide. Not just for UK clients, but for every person of legal age who wants their chance to win the Powerball USA jackpot. So you can play Powerball online.
How does the US Powerball work?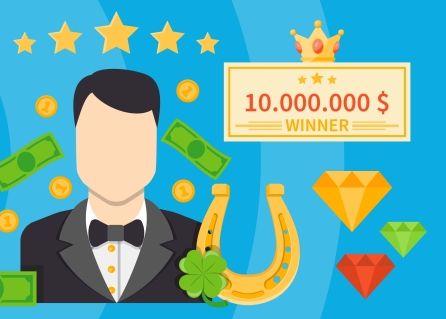 If you're looking to purchase a Powerball ticket you want to make sure that you know how to get started, right? The process is super simple and we're going to go over it right here. Players have to pick five numbers from 1 to 69 (the white balls), plus 1 number from 1 to 26 (red balls). These numbers are considered the regular balls and the Powerball.
In order to win the jackpot, you need to have all 6 numbers on your ticket. Missing a single number means you're going to win a smaller prize (but you will win something even if you get only 5 matched numbers).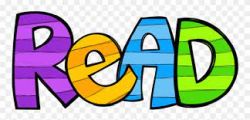 Can the best Powerball lottery numbers help you win?
Find out if it is possible to predict the winning numbers with the best Powerball lottery numbers. Read more
In fact, with the Powerball, you'll win something if you match all 5 regular numbers and miss the Powerball. You'll also win something if you get 4 regular numbers and the Powerball. You're just not going to get quite the same amount as if you matched everything. That's definitely something great about this game as well.
Is it legal to play US lotteries from the UK?
Yes, it is! Imagine you are in the US – you could easily buy a ticket there. If you win, you have a legal claim to get your prize. If you look at the rules of the game, however, the lottery is not restricted to legal residents of the USA. What that means is you can actually be located anywhere in the world and you can legally purchase a ticket and then you can claim any prize that you may be entitled to.
So if you are a UK resident, and someone else buys the ticket on-site for you, your claim is secure. It is your ticket, and that is all that matters.
So now you have the opportunity to play Powerball online. It's one of the best options and it's one that you're going to want to take a closer look at on our website as well. We can get you set up in no time at all to play Powerball online.
So, now there is no reason for you not to try and win the Powerball jackpot – get your online ticket now!
Pros and Cons of Powerball
To play Powerball, you should know what the advantages and disadvantages are. Especially since when you play online, you have a lot of lotteries to choose from, and knowing the characteristics of Powerball and the other lotteries becomes important.
Powerball Pros
Very high minimum Powerball jackpot of $40 million, which is more than most lotteries can offer even after weeks of nobody winning their top prize
Strong week-after-week increases once the Powerball jackpot has passed the $200 million mark
A very high second-tier Powerball prize of $ 1 million, and a third-tier prize of $50,000, along with acceptable odds for the lower Powerball tiers, makes Powerball attractive to play
Large jackpots for Powerball usually make headlines all over the world, so you will know when to get your tickets and play
You can play in three weekly Powerball draws
Draw events can be watched online via the Powerball website or via Youtube
Free bonus ticket for Powerball for all our new customers
Another free Powerball bonus ticket if you refer a friend to our website after your friend spends a minimum of € 10,00 on tickets for any of our lotteries
Powerball Cons
Low probability of winning the Powerball jackpot (although, the jackpot always gets cracked eventually)
For European or Asian players, the draw times for Powerball are inconvenient, if they want to watch the draws online
When are the Powerball draws taking place?
The Powerball draws take place at 10:59 Eastern Time (or 22:59 h), which means at 3:59 (am) of the following day Greenwich Mean Time, or 4:59 of the following day in Central Europe.
History of the Powerball lottery and jackpot
When Powerball started in the year 1992, the minimum jackpot was $ 2 million only. At that time, in order to play Powerball, you had to pick 5 numbers out of 45 main numbers, and one Powerball number out of the second set of 45 numbers.
In 1997, the rules for Powerball were changed. To play, you had to pick 5 out of 49 numbers, and the Powerball pick was 1 out of 42. The minimum Powerball jackpot was set to $10 million.
Another change in the Powerball setup happened in 2002 when the number of balls in the main draw was increased to 53 – players still had to play 5 numbers plus one Powerball number out of 42.
Then in 2005, the minimum Powerball jackpot was set to $15 million, meaning after a jackpot was won, in the next Powerball draw you would play for a $15 million as the top Powerball prize
That Powerball setup lasted until January of the year 2009 when there was another change in the way Powerball was played. First, the jackpot minimum was raised to $20 million, while players had to choose 5 numbers from 59 balls, as well as play one Powerball number out of a 39 numbers range.
2012 saw the Powerball guaranteed jackpot being doubled, meaning that the minimum was set to be $40 million.
In 2015, the main numbers range for the Powerball draw was increased again, from 59 to 69. At the same time, the range for the additional Powerball number was lowered to 26. This new rule made it more likely to play and win the lower prizes, while the odds for the Powerball jackpot made it less likely for players to win. Of course, the jackpot would go unclaimed for longer periods, resulting in larger jackpots.
Another significant change in the way Powerball is played happened in 2021 when a third draw day was introduced, and since then, draws were held on Mondays, Wednesdays, and Saturdays.
Over the years, many US states decided to join the Powerball game. Initially, only the residents of 15 states could play Powerball, but currently, you can get tickets in 44 states. At the same time, it is possible to get tickets for Powerball via our legal online service. Through us, you will play with a real Powerball ticket, and the entire procedure from picking numbers, paying for your ticket, as well as getting paid can be done online.
How fast does the jackpot rise after each draw?
Obviously, if you want to play Powerball, you should always check the size of the jackpot. In general, we recommend that players should mostly select the lottery with the jackpot which is currently the highest. On the other hand, some lotteries have very low probabilities of the top prize. Superenalotto, Powerball, and Mega Millions are among those lotteries.
That said, you should observe the development of the jackpots, and often enough, it makes sense to buy tickets for multiple consecutive draws right away. By doing that, you make sure that you will not miss playing for a jackpot which could increase quickly. Here are some numbers regarding the incremental increase of the Powerball jackpot. Of course, this is what happens only if nobody wins the Powerball jackpot.
When the Powerball jackpot is at its lowest (the $40 million minimum), it usually increases at a rate of around $ 8-10 million per draw. With three weekly draws, the weekly increase would be approximately $25-30 million.
Once the Powerball jackpot is higher than $100 million, the weekly increase would be close to $35 million. That, of course, is due to the fact that more people play Powerball and buy tickets when the Powerball jackpot is higher.
When the Powerball jackpot surpasses the $200 million mark, with more and more players buying more tickets, there is an acceleration in the incremental rise of the jackpot. At that point, among other things, lottery players from all over the world start taking notice and want to play with tickets bought online. The weekly increase gets closer to $50 million.
At such a time when the jackpot for Powerball has reached $400 million, you can expect the jackpot to increase at a rate of $25 million after each draw. That is a $75 million increase per week.
If nobody wins the Powerball jackpot even when it is above $500 million, increased worldwide media coverage usually results in significant local and online purchases of Powerball tickets. As a consequence, the Powerball jackpot can easily go from $500 million to being close to $ 1 billion within two weeks. All this, of course, unless somebody wins the jackpot, and it restarts with the $40 million jackpot for the next Powerball draw.
All in all, it takes about three weeks for the Powerball jackpot to grow past the amount of $200 million, and a total of approximately 9 weeks to go from minimum to $400 million.
Highest Powerball jackpot of all times
In January 2016, three lucky winners from the states of Tennessee, Florida, and California shared the record prize for Powerball, at no less than a total of $1.5 billion. The highest individual Powerball win of all times was scored in November 2019, when a player residing in the state of Wisconsin (his or her name remains unknown) won $768.4 million, playing with a single ticket.