Kad je u pitanju igranje internetskog lota, možda tražite nešto novo. To je verovatno razlog zašto ste prešli na igranje onlajn igara na prvom mestu. Pa, spremaće se mnogo više zabaviti jer još niste videli Lotto America.
Šta je Lotto America?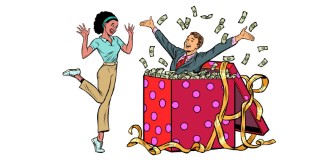 Loto Amerika je igra za lutriju sa više država koja vam pruža šansu za sjajan džekpot i daje vam dobre šanse da zajedno s njom odete. I ne samo to, ulaznice su jeftine i ova igra vam pruža puno načina na koje možete osvojiti manje nagrade dok ste na njoj. To znači da ćete se zabaviti s njim čak i ako ne osvojite džekpot.
Šta treba znati o igri
Ova igra se izvodi dva puta nedeljno, u sredu i subotu. Takođe crta ukupno šest različitih kuglica. Pet takvih su redovne, bele kuglice, što su vaši standardni brojevi. Jedna je crvena lopta koja je bonus broj.
Kada ste spremni da počnete da igrate Lotto America, sve što trebate je da napravite nalog na mreži pomoću RedFokLotto. Odatle možete pogledati sve naše različite igre, koje uključuju opcije iz celog sveta. Lotto America je samo jedna od mnogih igara koje možete birati, ali biće zabavna.
Jednom kada odaberete igru videćete šta je džekpot i kada će se izvlačenje održati pre nego što kupite kartu. Jednom kada odlučite da kupite kartu, samo izaberite brojeve koje želite. Možete odabrati sve brojeve sami ako imate želju ili možete izabrati samo nekoliko brojeva, a ostale nasumično generisati. Ili možete imati sve brojeve nasumično generisanih. Sve zavisi od vas.
Da li ste pobedili?
Sve što trebate učiniti da biste provjerili svoje dobitke je da pogledate na mreži. RedFokLotto nudi sve pobedničke brojeve, a kada odete na svoj račun, možete uporediti svoje karte sa pobedničkim brojevima
Ako osvojite malu nagradu, ona će se automatski položiti na vaš račun. Ako osvojite veliku nagradu, mi ćemo vam pomoći i proći kroz postupak dobijanja nagrade. Ali bez obzira na to šta ste pobedili, odmah ćete znati na svom nalogu jer ćemo vam pokazati vaše brojeve i pobedničke brojeve.
Dakle, zašto ne biste isprobali i proverili Lotto America? Možda čak ni ne shvataš šta još uvek nedostaješ.