Možda ste čuli za Eurojackpot Lotto, bez obzira da li trenutno živite u nekoj od evropskih zemalja u kojoj se igra ili ne. To je lutrija koja je osnovana 2012. godine u 19 evropskih zemalja. Ali ako živite u Srbiji ili u nekoj drugoj zemlji koja nije na listi učesnika, nema načina da nabavite kartu za Eurojackpot na tradicionalan način.
To znači da zapravo ne biste mogli da igrate, i da definitivno ne biste imali pristup ovom novom džekpotu, zar ne? Ipak, sada možete igrati Eurojackpot onlajn.
Internet kao spas
Naša internet stranica pruža rešenje za ljubitelje lotoa iz Srbije i drugih zemalja. Uporedo sa pristupom lutriji Eurojackpot, pružamo vam i pristup brojnim međunarodnim lutrijama. Ono što nudimo je kurirska usluga za loto tikete za lutrije sa najvećim džekpotovima iz celog svijeta. Većina, ako ne i sve ove lutrije vam inače ne bi bile dostupne, ali smo zato mi tu!
Zašto igrati Eurojackpot?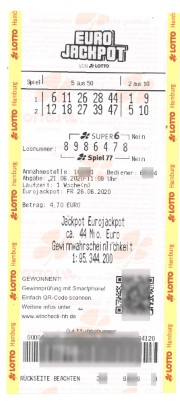 Uostalom, znamo da ljudi iz Srbije zaista žele šansu da igraju i osvoje ove velike džekpotove, a ne da zaglave sa džekpotom svoje nacionalne lutrije..
Sve što treba je da izaberete sa naše liste lutrija. Na raspolaganju su vam neke od najpopularnijih lutrija sa svih strana sveta. Na taj način možete pregledati, videti šta svaka od njih nudi i odlučiti se za one koje vas najviše zanimaju.
Zatim ručno izaberite svoje brojeve ili pustite da naš generator nasumičnih brojeva to uradi za vas (funkcija "Brzo biranje"). Možete čak da kombinujete ova dva, izaberete nekoliko brojeva, a zatim nasumično dodajete sve ostale brojeve koji su potrebni da biste ispunili tiket. Na taj način možete izabrati neke brojeve koje znate da želite, a dalje ispuniti tiket nekim nasumičnim brojevima.
Dodajte još tiketa ako želite, pomešajte različite lutrije. Ovo će vam pomoći da povećate svoje šanse za dobitak, jer igrate više različitih igara istovremeno. Možete i da uradite ono što je kod naših klijenata veoma popularno, a to je da igrate iste brojeve na više lutrija.
Nekima se ovo čini kao sjajan način da povećaju svoje izglede za dobitak, jer ti brojevi u nekom trenutku jednostavno moraju biti izvučeni, zar ne? Mora postojati način da ti brojevi budu dobitni?
Nakon što nabavite sve tikete koje želite, možete da koristite bilo koju od naših više bezbednih opcija plaćanja da biste kupili tikete. Postoji puno različitih načina koje možete izabrati, pa ćete pronaći neki sa kojim ćete se osećati bezbedno. Koristimo gotovo sve najpopularnije platforme za plaćanje.
Ne zaboravite da odredite u koliko izvlačenja želite da učestvujete. Ovo je važno posebno zato što trenutni džekpot možda neće biti izvučen u sledećem kolu. Ne biste želeli da propustite šansu da osvojite još veći dobitak u sledećem izvlačenju, zar ne?
Šta nakon toga?
Zapravo je igranje lutrije Eurojackpot preko interneta prilično jednostavno. Imamo mrežu agenata koji će kupiti tikete za lutriju sa specifikacijama koje ste odabrali. Na vašem klijentskom nalogu na RedFoxLotto.com videćete potvrdu o kupovini. Naravno da ćete dobiti potvrdu i putem emaila. To znači da možete biti sigurni da sve ide onako kako ste planirali i da su vaši tiketi spremni i da možete sačekati izvlačenje.
Od tog momenta nećete više morati da brinete ni o čemu, jer ćemo vas mi stalno obaveštavati o izvlačenjima, u slučaju da zaboravite kog su dana.
Dobićete još jedno obaveštenje e-poštom ako je neki od vaših tiketa dobitni. Sve dok dobitak nije veći od 2500 €, biće uplaćen na vaš nalog klijenta odmah. Novac vam se može isplatiti putem bilo kojeg računa koji ste odabrali ili možete upotrebiti sredstva za kupovinu novih tiketa. To će vam olakšati da sami odlučite, zar ne? Za veći dobitak, naša podrška će vas kontaktirati i upravljati direktnom isplatom.
Specifičnosti lutrije Eurojackpot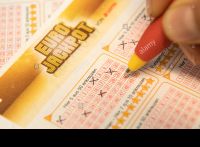 Ako želite da igrate Eurojackpot iz Srbije, morate znati kako. To je zaista prilično jednostavno. Na svom tiketu treba da odaberete pet brojeva između 1 i 50, plus 2 broja između 1 i 10. Džekpotovi počinju sa najmanje 10 miliona €. Postoji jedan aspekt u kojem se ova lutrija razlikuje od većine drugih. Jednom kada džekpot dostigne 90 miliona evra, zatvara se.
To znači da će sav novac, koji bi se inače dodao u džekpot, biti dodan na nivo drugog nivoa nagrada. Da biste osvojili tu nagradu, potrebno vam je samo 5 plus 1 broj da biste imali dobitak na tiketu. Vaše šanse za osvajanje nagrade su očigledno veće za faktor 10, u poređenju s vašim šansama za osvajanje džekpota sa 5 plus 2 broja!
To znači da, ako džekpot dođe do maksimalnog iznosa, ustvari imate još jednu šansu da osvojite veliki džekpot. Drugi nivo je lakše osvojiti i na njemu će početi da se povećavaju iznosi. To će definitivno povećati vaše izglede za tu ogromnu nagradu, zar ne?
A to znači, iako će džekpot biti malo manji kada bude izvučen, i dalje ćete želeti da pokupite jedan od ovih tiketa jer ćete imati veliku šansu da zaista negde stignete dugoročno gledano kada kupujete Eurojackpot onlajn.
Započnite sa igranjem međunarodne lutrije – kupite Eurojackpot tikete danas!